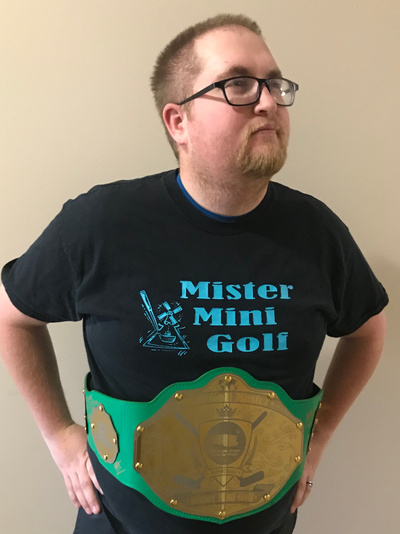 Karl Barth, through his website Mini Golf Reviews, left a secure job at a Fortune 500 company to risk it all to become a professional Mini Golfer and entrepreneur. Now known as Mister Mini Golf to the world, he has established a reputation as one of the most influential leaders in the industry and is turning heads with all that he has accomplished. Listen in to learn how he made the career transition and all that he has created in his Mini Golf empire!
Karl joins Mitch from Wisconsin to talk about the world of miniature golf and how he has turned it into a business for himself.  You can see him (pictured below) on a recent episode of ABC's Holey Moley minigolf challenge.
You can follow Karl on Facebook, Instagram or LinkedIn.
With this episode, we are excited to introduce our new affiliate sponsors.  Use this fantastic services and support us at the podcast at the same time!
Royaltie.AI
.  Bring your digital marketing to a new level with their propriety 3-click system driven by AI.  Listen to their commercial spot during the episode and 
contact us
 to arrange an introductory Zoom chat to learn all about this fantastic service.  Yes, we use it to promote the podcast!
Digital Accelerant
 - the digital business card.  Create your own electronic card with information and links to all your social media, email and other information.  Text LAW to 21000 to connect with us and request more details.
Fetch Internet
.  Fetch is an app that creates a secure and high-speed mobile internet connection for laptops and desktop computers.  For a one-time fee, eliminate the cost of monthly hotspots, avoid unsecure public wifi at airports, hotels, restaurants, etc...  Visit our landing page for more information and to support the podcast.