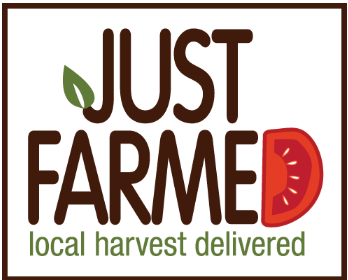 Meredith Lehman has a passion for food, the outdoors and healthy living. She grew up in Pennsylvania competing as a gymnast and later went to the University of Maryland on an athletic scholarship. She was always surrounded by healthy living and understood the importance of good nutrition. After 12 years working at a healthcare publishing company she then decided to pursue her passion of making it easy for others to enjoy farm fresh produce by way of Just Farmed.
Just Farmed is a seasonal, organic and sustainably farmed, locally grown fresh farm box delivery company.  They offer weekly delivery with multiple size and pick-your-own options. They are committed to keeping you connected to the local farms in our area, and they deliver that directly to your door.  Currently entering their 8th delivery season, they've partnered with both our own organic Flipside Farm and over 50 neighboring farms to give you as many variety choices as possible. Just Farmed originated in 2013 with a mission to help local households gain easier access to the NJ/PA/NY organic, sustainable and responsibly practicing farms.
On this episode, Meredith joins Mitch to discuss her company and the local farming industry.  It's a great episode to listen to and, if you are in the New Jersey area, you should sign up as a customer!
For more information about the podcast in general, send me an email: mitch@beinhakerlaw.com
Please review us on Apple Podcasts and Podchaser and I always welcome Google reviews for the legal practice from former clients.  Thanks for your continued support!
You can also follow the podcast on LinkedIn or Facebook.