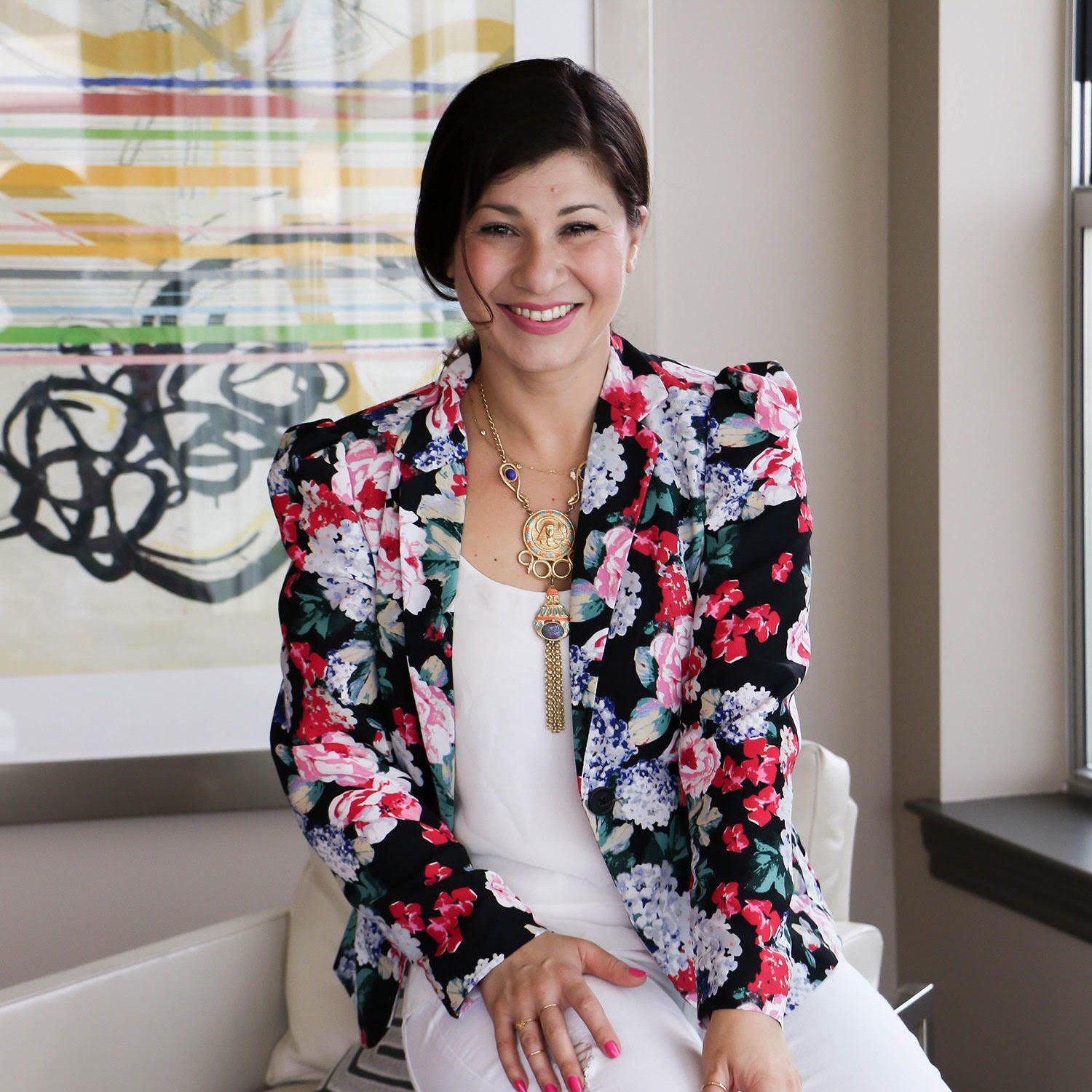 Sahar Paz is an author, professional speaker, personal branding expert and the CEO of Own Your Voice Strategy Firm where she has clients ranging from Gen Yers to Baby Boomers. Sahar has had the entrepreneurial spirit since the age of 13 when she launched her first company. With two decades of leadership experience, her keen communications and management skills were honed in her first managerial position in fashion, leading a multigenerational team with most members her senior. She then went into the conservative world of finance where she further learned how to own her voice, be strategic and navigate the complexities of an age-diverse team.
Inspired to share what she learned in business, Sahar pivoted and dedicated herself to giving a voice to people and issues by founding Free Your Star Foundation. The nonprofit empowered minority high school students in Brooklyn with programs and scholarships that focused on the business side of fashion. She continues to provide business and career advice to her former Millennial mentees now in the workforce.
In addition to listening to the episode, you can watch a video of their discussion on our YouTube Channel.  And be sure to subscribe to support the podcast!
Championing the voice of others to help them understand their emotional drivers and their personal power has always been Sahar's mission. Her book, Find Your Voice , part-memoir, part cognitive behavior guide, epitomizes that pursuit. As a member of Gen X, she understands the common sentiment of her generation: feeling overlooked and underappreciated. Sahar is a sought-after multigenerational translator known for being a dynamic keynote speaker who ignites excitement for a typically exasperated topic in the workplace--the generation gap.
Sahar is hailed as a conscious leader who offers the wisdom to lift up Gen X leaders to build better business practices. Keynote speaking clients have included several corporations, conferences, and universities, such as Facebook, HBO, Whole Foods, Greater Houston Partnership, Texas Medical Center, Emerging Women Live and the University of Denver. Audiences walk away with the skills to communicate fluidly across generations, build stronger teams and maintain company retention. Sahar currently lives in Houston with her dog Rico.
Links to her online courses:
https://www.saharpaz.com/find-your-voice
https://www.saharpaz.com/personal-brand
For general information about the podcast, send an email to info@beinhakerlaw.com
To follow Mitch and the podcast, go to linktr.ee/beinhakerlaw. You can subscribe and listen to episodes on Apple Podcasts, Google Podcasts, Amazon Music and most other directories. Please review us whenever possible and thanks for your continued support! Sponsorships and paid guest appearances are available. Connect with us by email or on social media.
The Accidental Entrepreneur is brought to you by Beinhaker Law, a boutique business & estates legal practice in Clark, NJ. To learn about shared outside general counsel services and how to better protect your business, visit https://beinhakerlaw.com/fractional-gen-counsel/
Please support our affiliate sponsors (https://beinhakerlaw.com/podcast-affiliates/). Also be sure to visit our new podcast store (https://beinhakerlaw.com/podcast-store/) to purchase affiliate services, guest merchandise and even podcast merchandise.  Yes, we have merch!
Digital Accelerant - the digital business card that generates leads. Get a custom branded digital card with information and links to all your social media, email and other information. Text LAW to 21000 to connect with us and request more details.
Fetch Internet. Fetch Pro is an app that creates a secure and high-speed mobile internet connection for laptops and desktop computers.
Printify - the on-demand print shop to create your own merchandise without cost or the need to house inventory.
The Accidental Entrepreneur is a trademark of Mitchell C. Beinhaker. Copyright 2018-2021. All rights reserved.