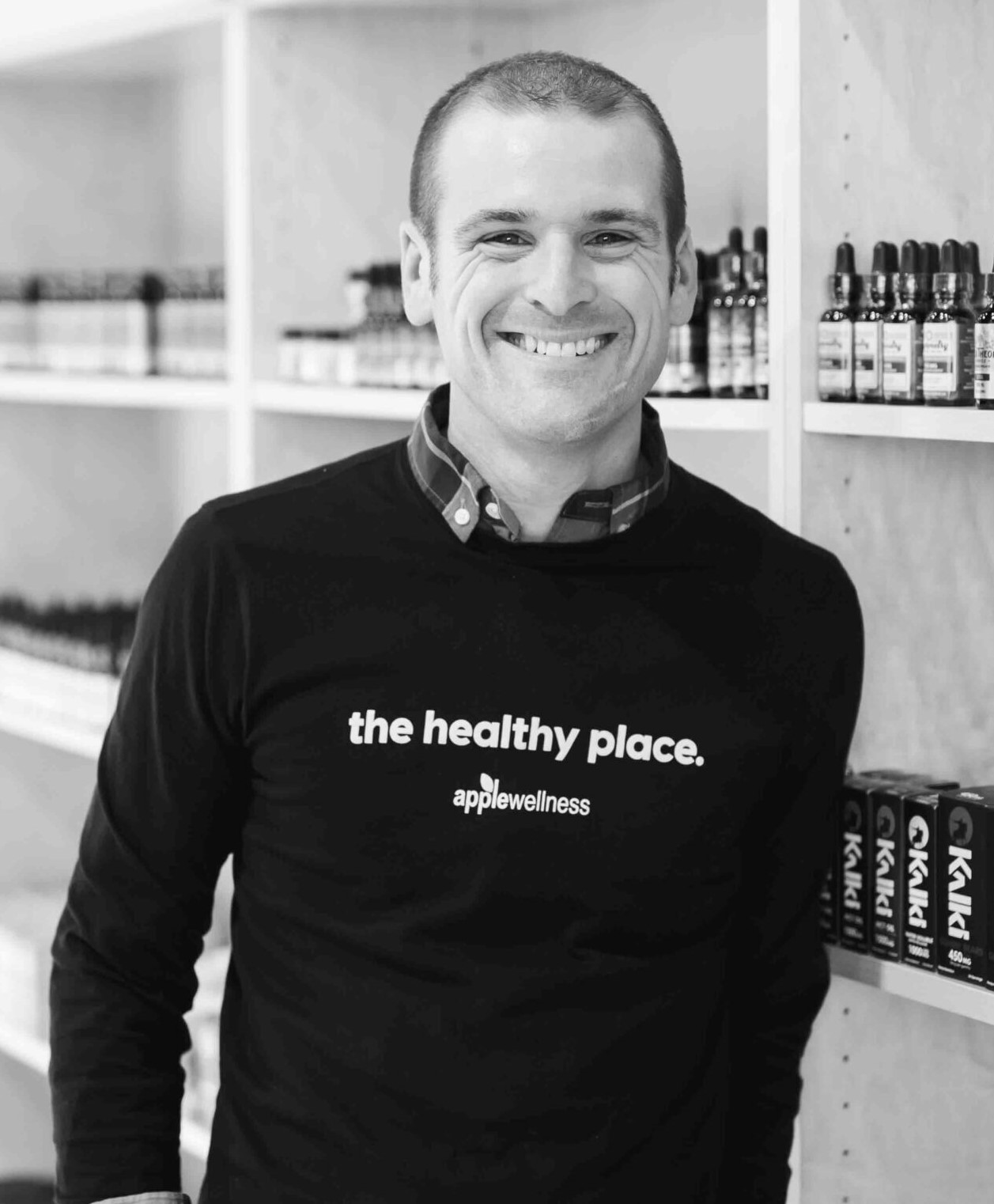 Tim O'Brien has extensive experience in the health and wellness industry. He began his career in 2003 at GNC franchises, then became District Manager in 2005. In 2008, he became the manager of Elite Nutrition. During those years, he built a solid foundation of knowledge and expertise. His passion and success gave him the vision to open his own business.
Tim believes in educating and empowering individuals to make lifelong, healthy choices and changes. His desire is to help each person reach their health potential. His energy is contagious, and he's excited about helping YOU.
The Healthy Place, formerly Apple Wellness, was founded by Tim and his wife, Becki, in 2010. It began as one, small vitamin and supplement store with only the two of them and their newly born daughter. Their goal was to become the best vitamin and supplement store in the Wisconsin area. They wanted to provide customers with the highest quality products, but also with the education needed for customers to stride forward confidently on their journey to find wellness.
Those founding principles continue to be what drives their company forward — top quality products and customer empowerment.  Here are links to two other of Tim's supplement companies:  livelyvitaminco.com and wildtheory.com
Their first location, with its humble beginnings, was opened in June 2010 in Fitchburg, WI. Six years later, in January 2016, they opened our second location in Sun Prairie, WI and now have two additional stores in Middleton, WI, and the west side of Madison, WI that opened in 2019.
In addition to listening to the episode, you can watch a video of their discussion on our YouTube Channel.  And be sure to subscribe to support the podcast!
For general information about the podcast, send an email to info@beinhakerlaw.com
To follow Mitch and the podcast, go to linktr.ee/beinhakerlaw. You can subscribe and listen to episodes on Apple Podcasts, Google Podcasts, Amazon Music and most other directories. Please review us whenever possible and thanks for your continued support! Sponsorships and paid guest appearances are available. Connect with us by email or on social media.
The Accidental Entrepreneur is brought to you by Beinhaker Law, a boutique business & estates legal practice in Clark, NJ. To learn about shared outside general counsel services and how to better protect your business, visit https://beinhakerlaw.com/fractional-gen-counsel/
Please support our affiliate sponsors (https://beinhakerlaw.com/podcast-affiliates/). Also be sure to visit our new podcast store (https://beinhakerlaw.com/podcast-store/) to purchase affiliate services, guest merchandise and even podcast merchandise.  Yes, we have merch!
Digital Accelerant - the digital business card that generates leads. Get a custom branded digital card with information and links to all your social media, email and other information. Text LAW to 21000 to connect with us and request more details.
Fetch Internet. Fetch Pro is an app that creates a secure and high-speed mobile internet connection for laptops and desktop computers.
Printify - the on-demand print shop to create your own merchandise without cost or the need to house inventory.
The Accidental Entrepreneur is a trademark of Mitchell C. Beinhaker. Copyright 2018-2021. All rights reserved.